CONFUSIONS OF RATHOWEN ( FUCHSIA ) -her page
Whalton Morning Glory
Whalton Touch O' The Blues
Whalton Blue Heaven
Sire COURTLAND BOY-BLUE
Oakley Bubbling Spring
Oakley Gay Royal
Royal Lola
Consider Me
Dam THOUGHTFUL MISS (T.B.)
Mortal Vixen

Her dam, Thoughtful Miss along with her new-born colt foal was scheduled for destruction when the stud that bred her was being disbanded, but fortunate intervention brought her traumatized dam, dripping milk and without the foal that had already been put down, to us. She did not go in foal that first season, but the following year we had success which resulted in the beautiful filly, Considerations of Rathowen (Philos), Reflective (Theo), Pensive (Penny), Contemplations (Tempo), and the last of the tribe, Confusions. She earned her name by being the last of five very similar offspring - quality bay/brown youngsters of similar type all with brilliant movement - very confusing.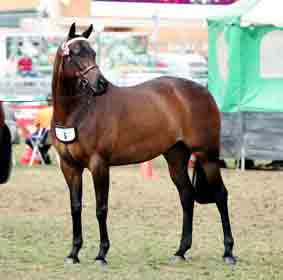 She was leased to the George Family to "replace" R. Storm Warning, for whom a brilliant offer had been made, but various things brought about her going to Kelly Bond, and the rest is history.There is not much they haven't won.
"Fuchsia" and Kelly have had the most amazing partnership and have won in Open, ANSA, ASPA, AHSA and Riding Pony rings at Royal Levels, both In Hand and Ridden.