RATHOWEN LADY IN RED (RUSTY)- her page
Whalton Morning Glory
Whalton Touch O' The Blues
Whalton Blue Heaven
Sire COURTLAND BOY-BLUE
Oakley Bubbling Spring
Oakley Gay Royal
Royal Lola
Treharne Talisman
Chippenham Architect
Walnut Princess
Dam RATHOWEN RUSSET
Grand Cascade
Kizmaha's Alzena
Priscilla
Probably my favourite pony mare, out of my favourite pony broodmares. Her mother Russet was probably the first Riding Pony bred at Rathowen when we decided to go from the Arabians we had been breeding to the Derivative scene, and had the good fortune to produce the dark liver chestnut "Russet" , being the last foal we bred from her dam before she was sold. Her mother "Robin" was the most amazing plum-coloured chestnut with a fair spattering of chrome, and an equally amazing athletic movement, which she passed on to Russet. Rusty, the second of many Russet foals by Courtland Boy Blue, inherited this brilliant movement, although Archie (Chippenham Architect), Rusty's sire, was the best mover a totally rideable, controllable pony, quite suitable to be ridden by a child under almost any circumstance.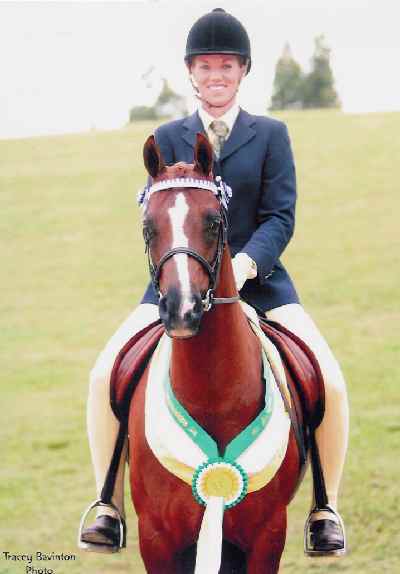 She was shown extensively as a foal, winning right from the first. She was Champion at the National Arabian Show over and over again, Australian Champion both Led and Ridden at the Australian Arabian Championships (ridden by Melissa Hughes, above), Reserve Champion Led RP Mare at Melbourne Summer Royal, Res. Champion RP Mare NSW Riding Pony Show, Champion Arabian Pony Mare at Sydney Royal twice and Supreme Arabian Derivative Exhibit as well. She was shaping up well under saddle when a misplaced kick wedged her hind leg between the mesh and a post and finished her show career, and nearly her life. After several months in plaster she was able to walk again, and to commence her new career as a broodmare.
Her first foal was a filly to Kolbeach Freedom, who was also starting his career as a sire, and the foal, Rathowen Robed in Red started her show career for the George Family by winning her class at Brisbane Show and taking out the best Youngstock Exhibit. She won again at Sydney Royal Show 2010, by which time Rusty had foaled again, a bright red chestnut colt with extensive but attractive white markings, Rathowen Red Hot, sold to South Australia, where he has already been successful in hand. Rusty is back in foal to Kolbeach Freedom.